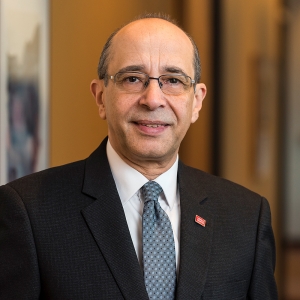 Rafik Goubran
Dr. Rafik Goubran, BSc, MSc, PhD, P.Eng., is a leading expert in sensors and data analytics. He is the

Dean of the Faculty of Engineering and Design

at Carleton University, the founding Director of the Ottawa-Carleton Institute for Biomedical Engineering (2006-2009), and a Scientist at the

Bruyère Research Institute

. Dr. Goubran is an IEEE fellow and a CAE fellow. He has co-authored over 320 journal and conference papers, filed 10 patents, and co-supervised 20 PhD and 68 Master's students. He has participated in several committees, including IEEE guest editor, IEEE conference and TPC chair, NCE Research Management Committees, CFI expert panel and CEAB visits.
Dr. Goubran has also acted as a consultant to several industrial and government organizations in the area of signal processing and biomedical engineering.